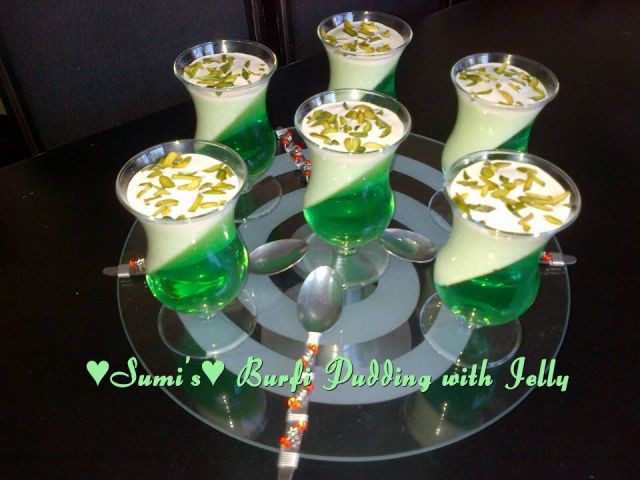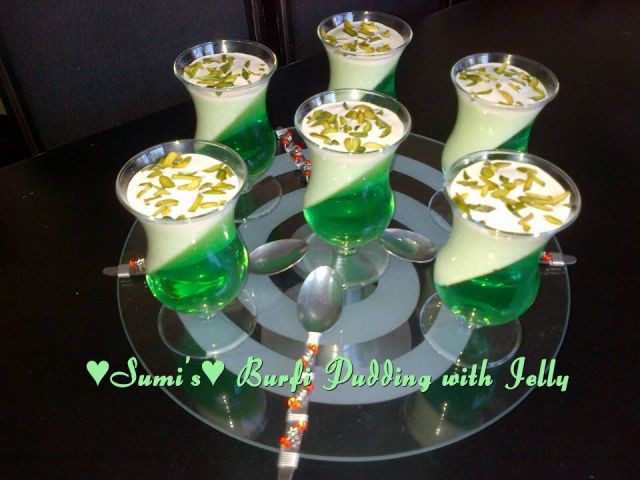 INGREDIENTS
1 litre milk
1 tin condense milk
1 tin big nestle dessert cream
3 teaspoon china grass powder / ghasspowder
2 tablespoon of milk powder/ klim
1 tablespoon custard powder
2 teaspoon Elachi (cardomom) powder
2tlbs rose water

Jelly Flavour according to ones preference. Make as directed on box. Set in individual glasses or bowls. Put glass @ slant in muffin pan and allow to set. Preferably over night.
METHOD
Boil milk with ghass powder, mix milk powder and custard powder in little milk, add to the boiling milk and keep boiling til come up.Remove from heat and add condense milk and ½ tin of the cream. Beat well, allow to cool of then pour on to jelly.



»̶ S̶̲̥̅̊um̶̲̥̅̊​A̶̲̅Ýa̶̲̥̅̊н̣̇ «̶ إبراهيم.
INFO & TIPS
You can also colour your pudding according your jelly colour. Eg light green or light pink if you making red jelly.

Ps. You will need mayb 2 or 3 boxes jelly. Jst depending on how many you makin. I box of jelly only mykes 7 glasses. The burfi mixture is a lot ҵ can have it on its own.
Comments ordered by Newest
---