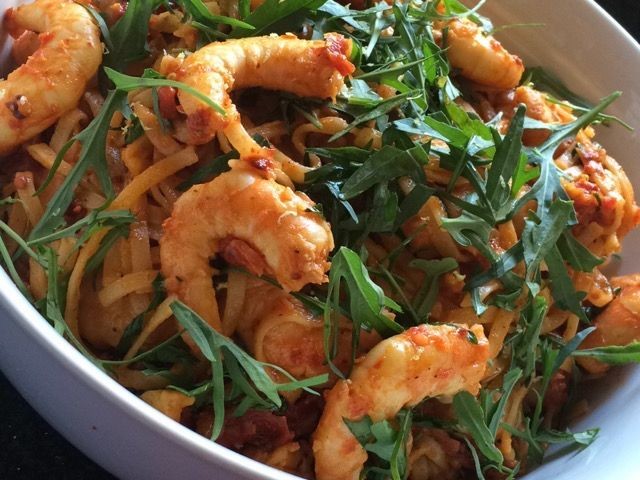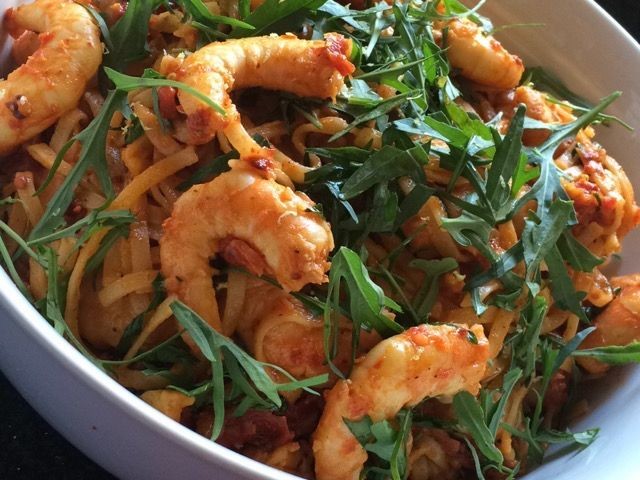 24
favs
0
coms
4.2K
views
INGREDIENTS
400g fettuccine pasta
Olive oil
2 tablespoon butter
Salt, to taste
Freshly ground black pepper, to taste
6-8 cloves garlic, chopped up finely
2-3 teaspoon rough red chilli flakes, or according to your taste
400g peeled raw prawns
250g sun-dried tomatoes in olive oil (Ina Parmen's), blended up
Juice and zest of 1 lemon
2 handfuls of rocket, roughly chopped
METHOD
In a large pot bring the pasta to boil in salted water with me olive oil.
In a large saucepan heat some olive oil and butter. Toss in the garlic and red chilli. As the garlic begins to garlic, add the prawns and cook for only a minute. Take the prawns out and leave aside.
In the same pan, add the blended sun dried tomatoes and allow to simmer for a few minutes. Add salt, pepper, chilli and garlic to taste.
Toss the pasta into the pan with the sauce and give a good stir. Add the prawns, half the rocket and the lemon juice and zest. Toss it all together and remove from the heat.
To serve, dish up pasta into a large serving dish, sprinkle some lemon juice over and garnish with the rest of the rocket leaves.
Comments
Ordered By Newest
---
---
Suggest Recipes
You May Like
Prawn, Chilli And Tomato Pasta is part of the
Pastas, Pizzas
recipes category