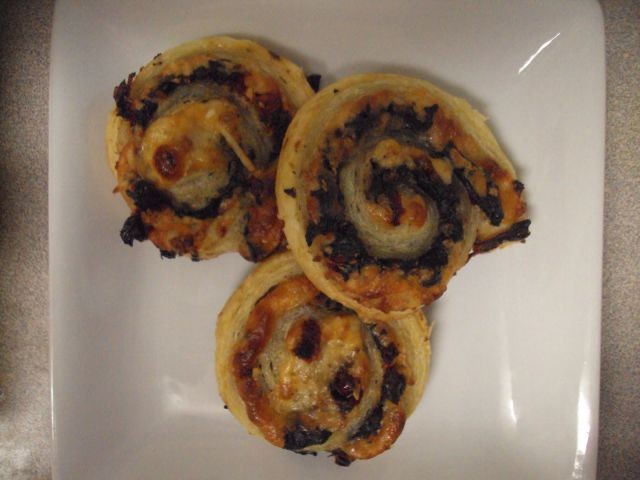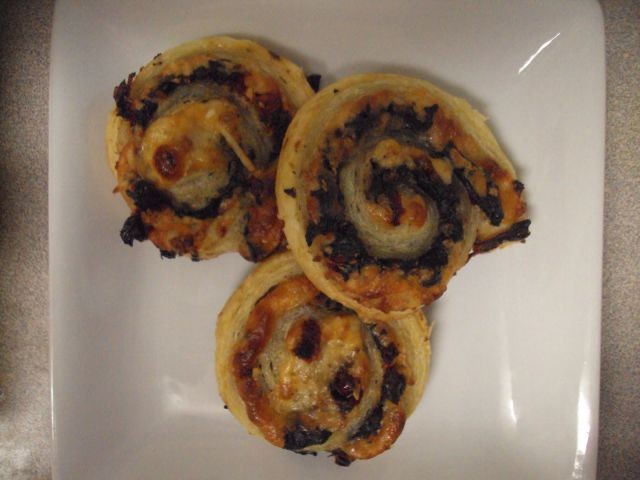 INGREDIENTS
1 package puff pastry, thawed
1 package frozen chopped spinach, thawed
1 medium onion, chopped
3 garlic cloves, minced
2 teaspoons sumac
½ teaspoon garam masala (or ground cinnamon and ground cloves if you don't have garam masala)
2 tablepoons pomegranate syrup
3 tablespoons sun dried tomatoes, chopped
¼ cup parmesan cheese
¼ cup mozzeralla cheese
1 teaspoon garlic powder
4 tablespoons melted butter

METHOD
1. Thaw both sheets of puff pastry according to box directions but make sure to keep refrigerated until you're ready to use. In a skillet over medium heat, saute onions and garlic until fragrant; about 3 minutes. Add thawed and drained spinach and cook for 3 more minutes. Add sumac, garam masala, pomegranate syrup and salt and pepper to taste. Remove from heat and set aside to cool.


2. In a small bowl, mix the garlic powder with the melted butter and brush on to an unrolled puff pastry sheet. Sprinkle the entire sheet with half of each cheese. Followed by half of the spinach mixture and half of the sun-dried tomatoes.

3. Starting from the end closest to you, roll the puff pastry sheet up in a tight roll. Continue rolling and pinch the seams when you reach the end. Cut into ¾" slices with a serrated knife and place on a baking sheet. Bake in pre-heated oven at 400 degrees until spirals are golden and puffy. Repeat with remaining ingredients on the second puff pastry sheet.

Comments ordered by Newest
---