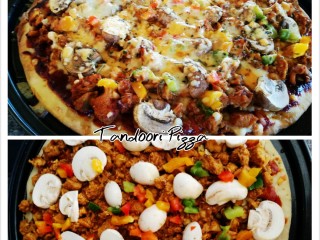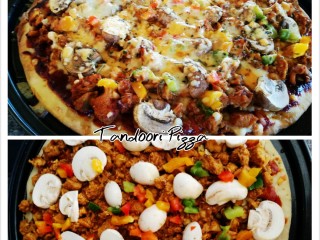 RECIPE
Tandoori Chicken Tikka Pizza
Recipe & pic: @naeema_mia

Filling:
500g chicken fillet cubed
1 tablespoon oil
1 tablespoon tandoori spice
1 tablespoon tandoori marinade /sauce
2 tablespoon lemon juice
2 tablespoon tomato puree
1 teaspoon salt
1 teaspoon fine jeeru (cumin)
1 teaspoon Paprika
½ teaspoon arad (Turmeric)

Marinade chicken fillet with all of the above ± an hour. Cook until done. Leave moist do not dry. Burn a piece of coal until red and hot. In a small bowl place 1 tablespoon butter or ghee (Clarified butter) with hot coal in the pot. Cover and leave for 5 minutes. Add the ghee (Clarified butter)/butter to chicken.

For the base:
1½ self raising flour
1 teaspoon salt
1 tablespoon coconut oil
¾ - 1 cup warm water

Combine flour salt and oil. Add water to form a soft dough. Leave to set for about 30 - 60 minutes. Roll into a big Roti, poke holes with a fork. Pre bake for 10 - 15 minutes on 180 deg. Cool

Spread pizza sauce on the base (I used the tandoori sauce) sprinkle a good amount of white cheddar cheese. Then add the chicken filling. Top with sliced mushrooms, green, red and yellow pepper, parsely and origanum. Put back in the oven grill until cheese melted.
Comments ordered by Newest
---