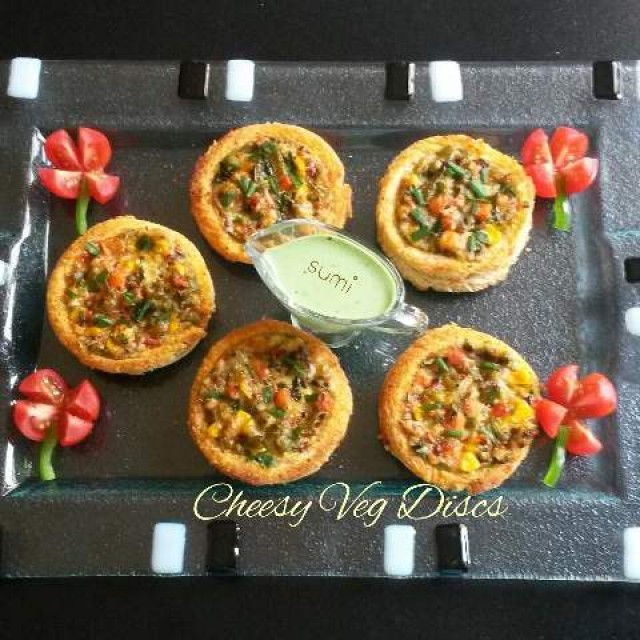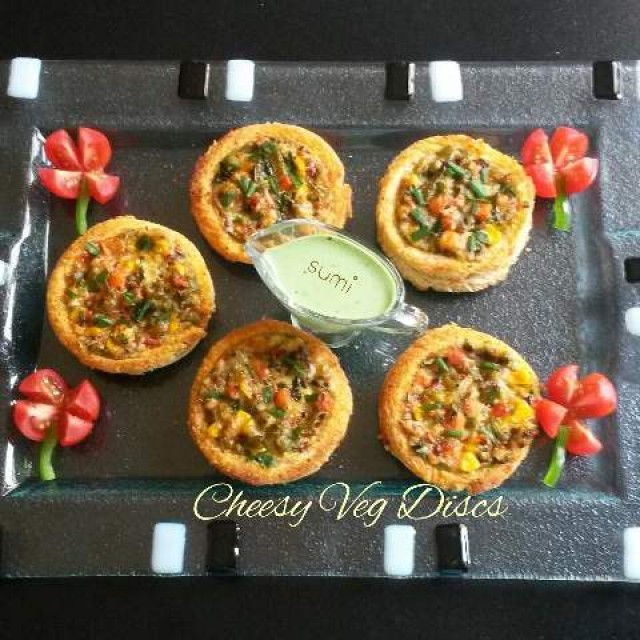 RECIPE
Recipe . Internet video
Pics. Sumi

1 packet bread
¼ cup onion chopped
¼ cup capsicum
¼ cup boiled carrots
2 tablespoon tomatoes chopped
¼ cup boiled corn
½ cup paneer
some fresh coriander
salt to taste
1 teaspoon origanum or mixed herbs
1 teaspoon garlic paste
4/5 tablespoon cheese spread\grated cheese
1 teaspoon chille flakes

Pre heat oven to 180°C
Mix all the ingredients for the butter spread
+- 1 tablespoon soft butter
2 tablespoon tomatoe sauce
1 tablespoon chillie sauce
1 tablespoon cheese spread
Mix everything well to make a thick spread. Keep aside.

Take two round cutters one big in size the other one a bit smaller. Using the biggest cutter cut all the bread slices into discs. Now take half of the cut discs using Google the smaller cutter, cut into rings.

On the bigger bread disc apply a generous amount of the butter spread & to this place the bread ring & press slightly to seal all the edges so dat it sticks on to it. Do this with all & keep aside.

In a saucepan add 1 tablespoon butter & melt. Sauté onions with garlic paste for 30 to 40 seconds. Add in the capsicum,carrots,corn &tomatoes & sauté for some time. lastly add in the crumbled paneer &again toss it. Also add the salt, pepper,origanum &red chilli flakes & mix well . Mixture is ready remove from stove allow to cool. When cooled add dhania (coriander), cheese spread & some grated cheese give it a good mix.

Take 2 tablespoon of the veg mixture & fill neatly in the centre of the ring. Repeat until all are filled.
Lastly apply some melted butter on the edges of the ring . Bake in the oven for +- 8 to 10 minutes.
Serve hot.

Comments ordered by Newest
---